Many people know the taste of our wines, but few know the source of the flavors.
For you to discover the origin we invite you to visit our winery at Macià Batle.
During the visit you will get to know the processes of the elaborations of our wines, with the journey of the grape from the harvest and throughout the vinification.
We will guide you through the fermentation zones with its respective reservoirs, the bottling area, and further on to the chambers of our wine cellar with our oak barrels and the last part of our aging zone with the resting bottles.
To round up the visit we indulge you with a tasting of 4 wines, combined with Mallorquin delicacies elaborated by us, such as our extra virgin olive oils, balsamic vinegars and exquisite pâtés.
Visiting hours
Until February 28st.
Monday to Saturday: 12:00 pm | 02:30 pm | 04:00 pm
Sundays: Closed
From March 1st.
Monday to Saturday: 11:00 am | 12:00 pm | 14:30 pm | 16:00 pm
Sundays: Closed
Christmas Schedule
24th and 31st of December the winery closes at 2 pm
Languages
The visits can be done in the following languages:
Spanish | Catalan | English | German | Russian | Italian | French | Swedish | Greek
Price of the visit:
Adults 15€ per person
Children 6€ (free up 7 years old)
Information on special cards and groups
---
Book your visit now and take advantage of this special promotion: a 15% discount on the purchase of our 1856 Red Wine (Available times 12 noon and 2:30 p.m.)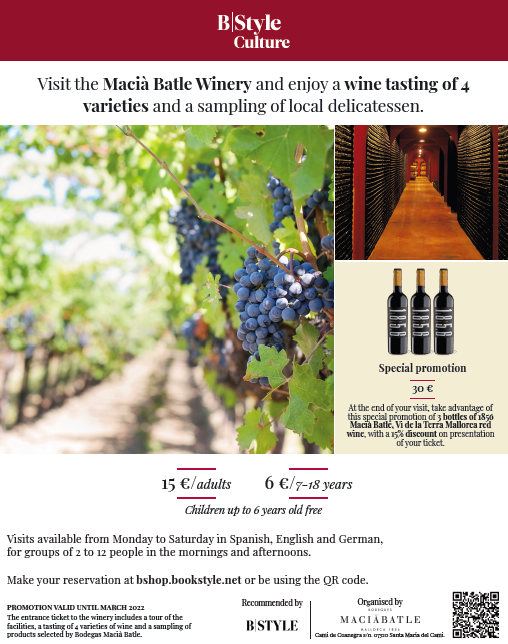 It is in our interest to comply with your personal wishes regarding visiting hour and
language, therefore we kindly ask you to book in advance.
Our winery is open from Monday to Saturday from 9:00 am to 6:30 pm